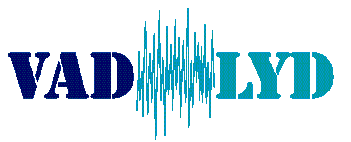 JØRGEN VAD LYDTEKNIK
FARUM GYDEVEJ 65, OPG. 2, 1. FLOOR. - DK 3520 FARUM - DENMARK
PHONE +45 20267018

Reference Page
Updated October 15th 2013
Audiorestoration:
Music Mecca (Jørgen Ryg Collection, Percy Humphrey e.g.), Swan Music (Svend Asmussen Collection), Selskabet Bellman i Danmark (The Bellman Society in Denmark), Air Play Recording Studio, Nordisk Film Broadcast (Bryggeren), Dr. Dante, Puk Recording Studios, Peruna Jazzmen, GHB Records (New Orleans), Anders Nordin, Zoologisk Museum, Gate 2 History (Liva Weel), Kgl. Kammersanger Otte Svendsen (Famous Danish opera singer) Erik Moseholm (Collection), Harlem Kiddies, Jonny Campbell, Kjeld Bonfils e.g.
Mastering/Premastering:
Music Mecca (Almost the entire catalog since Spring 1996), Ambia Music, Per Meistrup Productions, Aage Tanggaard, 3-D Lyd, Per Warming, Bent Ager, KOW-studio (Issuing very fine railway sounds on CD), Apkos, Classico, Pheasant Records, Lyngby-Taarbæk Ungdomsskole, Jesper Lundgaard, Asger Siiger, Jazz'n Rolls, Christina von Bülow, Søren Nørbo, New Orleans Delight, Sigurd Barrett, Debbie Cameron, Charlotte Roel, Alex Riel e.g.
Sound recordings:
The Ronald Andersen Special Edition Band, Alton Purnell, Sammy Rimington, Doc Houlind, Topsy Chapman, John Boutté, Milton Batiste, Theis/Nyegaards Jazzband, Dansk Svensk Jazzforsyning, Carlsberg Brass Band, Æ Bindstouw Jazz-Men, Peter Nissen, Femø Live 95/96, Butch Thomson, Poul Barnes, Thomas Jefferson, "Du Hørte Den På Månen" (Christiansø folk music), PeeDee Jazzband, Leonardo Pedersens Jazzkapel, Basie Trust Big Band, New Orleans Delight, River Band, Jesper Thilo e.g.
For further information - please contact Jørgen Vad, telephone:
English Homepage - Audio restoration - CD Mastering - Sound Recordings
CD and Cassette duplication - Transferring of 78 RPM and LP's - 78 RPM and RIAA Preamp
Equipment List and Pro-audio links - References
Price list - Danish Homepage - Search vadlyd.dk