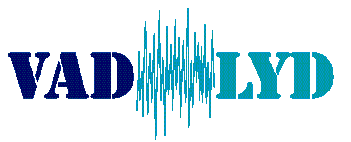 JØRGEN VAD LYDTEKNIK
FARUM GYDEVEJ 65, OPG. 2, 1. FLOOR - DK 3520 FARUM - DENMARK
PHONE +45 20267018

AUDIO RESTORATION
WITH "SonicStudio NoNOISE II"

Latest update January 17th 2018
REMOVES SCRATCHES AND CRACKLE FROM PHONOGRAPH RECORDS
REDUCES BROADBAND NOISE LIKE TAPE HISS
REMOVES/REDUCES HUM AND BUZZ
Before you start your project with sound restoration, you need to define what noise is. Basically you have three types of noise:
Impulse noise, which include thumps, pops, scratches and crackle. Pops and clicks normally comes from phonograph recordings. But pops and clicks also occur in modern audio production. This can be a poor microphone connection, or maybe a minor dropout in digital audio transmission from DAT tape.
Non impulse noise, which include broadband noise like tape hiss, background noise from air conditioning and surface noise from old phonograph recordings.
Non Impulse noise like narrow band noise as hum and buzz.
We remove noise using Sonic Studio NoNOISE II. These tools are the best two audio restoration tools in the World.
With Sonic Studio NoNOISE II and soundBladeHD Premastering system, I can do the whole job for You with a CD-Premaster ready for glass-mastering and CD Production. Please take a look at my page CD Mastering/Premastering. This is really a cost-effective solution.
If You are interested in audio restoration of old records, please look at my page Transferring of 78 RPM and LP´s, as well as my page 78 RPM and RIAA Preamp
For further information:

Please contact

English Homepage - Audio restoration - CD Mastering - Sound Recordings
CD and Cassette duplication - Transferring of 78 RPM and LP's - 78 RPM and RIAA Preamp
Equipment List and Pro-audio links - References
Price list - Danish Homepage - Search vadlyd.dk