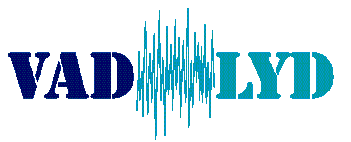 JØRGEN VAD LYDTEKNIK
FARUM GYDEVEJ 65, OPG. 2, 1. FLOOR - DK 3520 FARUM - DENMARK
PHONE +45 20267018

CD MASTERING/PREMASTERING
WITH SONIC STUDIO soundBladeHD

UPDATED JANUARY 17th 2018
For "Production Mastering" and "Premastering," I use Sonic Solutions "Sonic Studio soundBladeHD" harddisc-recording, which is The World wide leading system in sound editing, mastering and NoNOISE Audio restoration. Beside I can offer a combination of Sonic StudioHD NoNoise and CEDAR audiorestoration. A really powerful combination of the Worlds two leading aurestoration companies.
"Sonic Studio" is a very powerful sound editing workstation, which means that You can do a lot of edits very fast and precise. The result for You is saving money, and the best sound-quality money can buy.
And this is really a good thing as a combination when You need a Premaster for Your CD-Production.
Sonic Solutions Premastering System supports all necessary PQ, ISRC, CD Text and UPC/EAN encoding. Besides it can dump the Premaster with "Dither," which is necessary when You do editing. And You do that for 99% . Editing can be gain max. or doing digital blacks between the tracks.
Delivery on CDR Red Book or DDP as upload.

Outboard equipment for mastering is "tc electronics Finalizer 96K," "tc electronics M3000" reverb, "Digitech TSR12" multieffect, "TL Audio C1" Classic series valve compressor, "TL Audio EQ2" Classic series valve equalizer, Jünger e 07 digital eq/enhancer and "Oram Sonics HD-EQ" equalizer.
For further information - please contact Jørgen Vad, telephone:

+45 20267018 or contact me by e-mail:

English Homepage - Audio restoration - CD Mastering - Sound Recordings
CD and Cassette duplication - Transferring of 78 RPM and LP's - 78 RPM and RIAA Preamp
Equipment List and Pro-audio links - References
Price list - Danish Homepage - Search vadlyd.dk